Helen's Books
Here is my dinosaur picture book at last.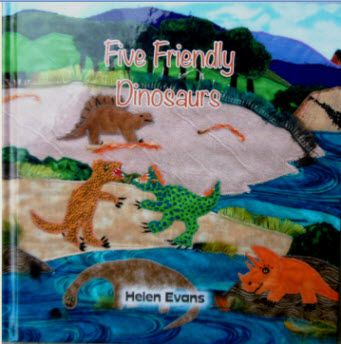 'One dinosaur sets off to find gold at the end of the rainbow. Why doesn't he come back? What will happen when his dinosaur friends set off to find him?
The pictures in this book are all created by sewing and will delight readers of all ages.
Go to this link https://youtu.be/Ab52J8nSY1o to see a video of the book launch.
The book is available from Helen here or
at www.helenevansfivefriendlydinosaurs.com
The original pictures have been exhibited at the Chaucer on Bridge Street gallery in Uralla NSW. and soon they will be sewn together and the fabric book will be available for people to see. People visiting there can also see my other fabric books.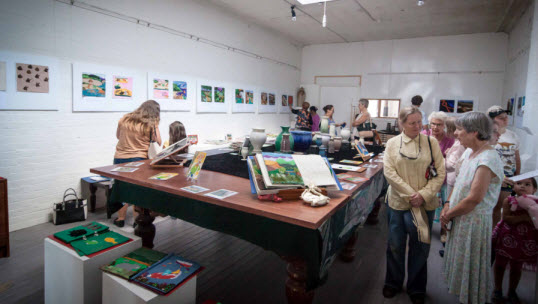 ---------------------------------------------------------------------------------
Reluctant Heroes is an historical novel.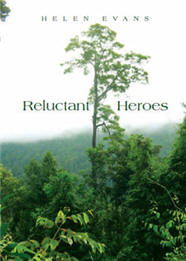 This is a war book about mateship and life for Australian families during W. W. 11. You can read more about it by clicking on the link on the right
Ideas for books.
Ideas for stories come from many different places. Sometimes children give me ideas for a story. Sometimes I get an idea from the newspaper or the TV. Often an idea just pops into my head. Ideas come when Iím drifting off to sleep or when Iíve just woken up. Sometimes I get my best idea while Iím pegging the washing on the line. I make notes in a notebook but I like to write the story on my computer.
Everyone is scared of something. I'm scared of snakes and spiders. Some people are scared of dogs, the dark, lightning, heights or going to the dentist.
In my book, Watch Out for Bunyips, Kylie Howie is really scared of bunyips.
When Kylie moved to a small country town, she knew she'd have to watch out for bunyips everywhere.

Her first challenge came when she went on a picnic with her new friend, Birilee. Birilee didn't seem to be afraid of anything.


Kylie thought life in a country town would be boring. She was wrong.
When Uncle Andy visits, there are always

surprises. Little Cyril has disappeared and

all Tom can see is a fat frog.

Has he really turned the baby into a

frog without even trying?
The Big Squeeze is a story for 8 year olds who like funny stories. I got the idea from a couple of scary things that really happened. The illustrations are done by John Yahyeh. I think they are perfect.
You can buy the big Squeeze from www.blake.com.au or from bookstores
Storytelling is lots of fun and Helen's new book is all about it.

Simply Storytelling is a book for everyone who is interested in telling stories to children without using books. Storytelling stimulates a child's creativity, encourages conversation, and helps develop concentration and memory.

Different methods of storytelling are explained and illustrated with photographs. Methods include the use of puppets, toys, music, dress ups and feltboards. There is something for everyone here, from early childhood educators to parents, and grandparents.

To order a copy see www.centralbooksuppliers.com.au and put the title and my name in the search box and click.
Children learn in many ways including by listening to stories. Helen's newest book, Everday learning about storytelling is full of tips to get you started. It includes chapters on

the language of stories

finding stories

the five steps in storytelling

two of Helen's stories for you to tell

You can purchase a copy of Everyday learning about storytelling from Early Childhood Australia for only $14.95 (inc. p&h). Click on the link below.

http://www.earlychildhoodaustralia.org.au/lah0902