BORNEO ADVENTURE
Borneo is an amazing place with wonderful forests where the trees reach to the sky.
These pictures are taken at the Sepilock Orangutan Sanctuary where orphan orangutans are cared for until they are old enough to look after themselves. Each day fruit is placed on a feeding platform for them at 10 am. There are also ropes hanging from the trees so that the orangutans can learn to climb. A baby would naturally be dependent on its mother for five years, so without the sanctuary, most of the orphans would die.
I bought a toy orangutan so that I could tell a story to my storytelling groups when I came home.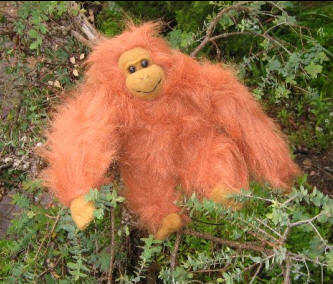 In August 2009 I had an adventure in Borneo. I trekked from Sandakan on the east coast of Sabah, Borneo, to Ranau near Mount Kinabalu.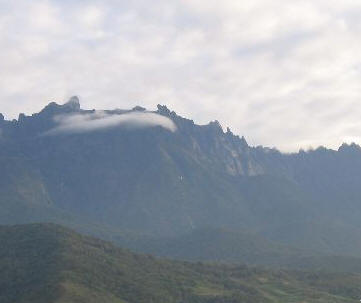 Mount Kinabalu.
This trek was very challenging both physically and emotionally.
| | |
| --- | --- |
| Here I am along part of the track. | From 1942 until 1945 my Father, Bill McDonald, was a prisoner of war of the Japanese. Many Australian and British POWs were sent to Borneo to a camp near Sandakan to build an airfield for the Japanese. There they struggled with disease and starvation. In the last stages of the war, the Japanese retreated forcing 1,047 POWs to march across Borneo through the jungle to the small town of Ranau. These marches became known as the Death Marches. My father was one of only 183 men who reached their destination. Of those men only six, all Australians, escaped and were rescued by allied soldiers. All the rest either died or were shot by the Japanese. |
In 2008, an Australian historian, Lynettle Silver, who had been researching the tragedy, found the last jungle camp site where the final POWs had lived and were murdered. On 27th August 2009 a memorial to those men was to be unveiled. So I could be present at the unveiling of the memorial, I joined a group of twenty people who trekked along the rediscovered track that the POWs had followed 64 years before,
The route went through thick jungle as well as across fast flowing streams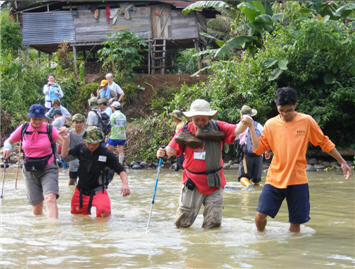 Guides helped us across this river.
The track went through scrubland, up and down very steep hills and across rubber and coffee plantations. Most days the group was walking from seven am until almost 5pm. When we stopped to rest or eat, Lynette told us about the trials those men faced all those years ago. Most of them were ill with malaria, dysentery and beri beri. They walked barefoot and with almost no food. Our group of trekkers were taken each night to a good meal and comfortable accommodation but the POWs had no shelter.
Here I am beside the flame tree I planted in memory of my Dad.

Here is the memorial. We placed red carnations on a wreath there. The flags of Malaysia, Australia, the United Kingdom and Sabah fly behind the memorial.27/8 09

The memorial is on a hill that overlooks the deep valley where the campsite was.

We climbed down into the valley after the memorial service.
My book about my father and his mates is now available It is called Reluctant Heroes. Look at my Amazon page
http://www.amazon.com/Helen-Evans/e/B00CEL0KWQ and scroll down to the image of Reluctant Heroes. It is available as an e-book or as paperback from the image on Amazon.
You can order a copy direct from Amazon , or order one by E-mail: mhevans@tpg.com.au

**********************************************************************
TASMANIAN ADVENTURE - THE TARKINE
I'd long wanted to go to Tasmania and when I read that a group of writers was invited to spend New Year 2009 in the Tarkine wilderness both walking and writing, I made enquiries.
The terrain is steep and consequently the trip was for moderately fit people. I began training at once by walking every morning for an hour in the hilly area where I live. On 28th December 2008 I joined ten other people at Launceston to begin five days of camping, walking and writing.

This is the remote, pristine wilderness we trekked into. The Tarkine is in the north west of the state of Tasmania.

We had been warned that, although it was New Year, the weather could be very cold. It was lucky we'd taken our winter gear as it was snowing that first day.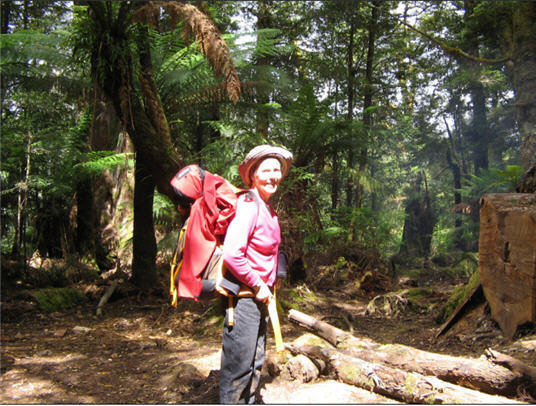 We each carried our own gear but tents were provided. I'd never had a back pack before. This was to be our camp site. Every day began with a meditation followed by time to write and then several hours exploring the environment. The scenery was so fantastic that I had no trouble writing. My companions came from varied backgrounds but we were all very compatible. We supported each other physically and emotionally and encouraged each other with our writing.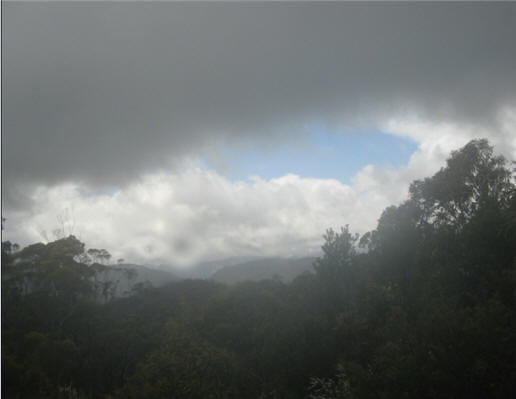 This sky is typical. there was a promise of a fine day early, but the clouds would descend and the rain would set in. After all, we were camping in a rain forest.
We hiked for three hours up and down steep hills this morning and had hoped to swim in this river, but the rain was so heavy, and the day so cold by the time we got there, that swimming was not possible. We certainly appreciated the meal our cook prepared for us that night.
| | |
| --- | --- |
| | One day we went by boat down the Pieman river and saw the legendry Huon pines growing at the river's edge. They grow only two centimetres a year so this one must have been enormously old.They can live 1,000 years. |
We went right to the coast and had a great day exploring the beach but you can tell from my clothes what the weather was like.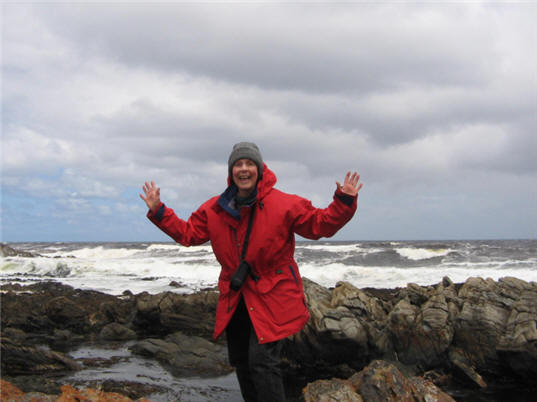 This was certainly a New Year with a difference. I kept up my walking training on returning home, so that I would be fit enough to trek in Borneo in August.