About Helen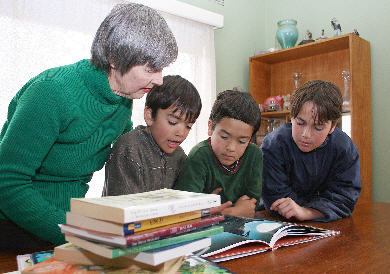 Helen enjoys sharing books with others
I've loved books for as long as I can remember. I have shelves and shelves of them and I keep collecting more. Now I write books for children myself. It has been a long journey that began when I was in Primary school. Library time was my favourite lesson. The librarian read to us from an exciting book each week and when he put it back on the shelf, we'd rush to borrow it. I imagined myself right in each book. Each adventure was my own. I decided I'd write books when I grew up. As a writer I could have as many adventures as I liked. I could be bold, daring and clever.
Life is full of surprises and when I grew up, I studied at The University of New England to be a teacher. After teaching at high school, primary school, and pre-school, I taught Child Studies at The New England College of Technical and Further Education (TAFE) in Armidale. In 1999 I did an Australian College of Journalism course in writing for children, and began my career as a writer.
When I was teaching pre-school children, I got hooked on picture books. Some of my favourite Australian picture books are by Jeannie Baker, Pamela Allen, Alison Lester and Graeme Base. These writers are very special because they are also illustrators. I illustrate some of my own books by sewing the pictures.
Most of my life I have lived in Armidale in northern New South Wales, Australia. I lived with my husband David, about thirteen kilometres from the town, until his death late in 2007. The birds and kangaroos that visit my garden and the peace and quiet of the bush help me to keep happy and from feeling lonely. I am very lucky as I have two sons and a daughter and four grandchildren.
I have many interests as well as writing. You can find out about them by using the other interests button on the right.